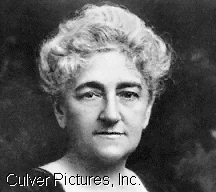 Mary Cassatt
by Eleanor Tufts
Mary Cassatt, b. Allegheny City, Pa., May 22, 1847 [1844?], d. June 14, 1926, was the first American artist to associate with the impressionists and the only American ever to exhibit with them (1877, 1879, 1880, 1881, 1886). She was also the first to promote the impressionists in the United States and is responsible for the appearance of many impressionist paintings in American collections.
Cassatt trained (1861-65) at the Pennsylvania Academy of the Fine Arts. In 1872 she studied graphic techniques at the Academy of Parma in Italy. She settled in Paris and submitted works to the 1872 and 1873 Salons. Her submission to the 1874 Salon, Portrait of Mme. Cortier (Maxwell Galleries, San Francisco), attracted the attention of Edgar Degas, who remarked, "There is someone who feels as I do." In 1875 she studied briefly with the academic painter Charles Chaplin; two years later she met and began a close association with Degas, who invited her to join the impressionist group.
When Cassatt exhibited A Woman in Black at the Opera (Museum of Fine Arts, Boston) in the impressionist show of 1880, the influence of Degas and of their mutual study of Japanese prints was clearly evident: the subject of a woman seated in a balcony, peering through opera glasses; the

asymmetry of composition, reinforced by vertical and diagonal bands in the background; the development of distant figures with loose, sketchy brushstrokes--all are quotations from Degas's many theater scenes.
Cassatt's sublimation of a personal style was nevertheless brief. Although she continued to paint many subjects for which Degas is famous, her mature impressionist paintings, typified by Morning Toilette (1886; National Gallery of Art, Washington D.C.), have an unmistakably American quality in their solidity and clarity of contours and details.

Other familiar paintings are The Blue Room (1878; Mellon Collection, Upperville, Va.), remarkable for its form and color, and The Boating Party (1893; National Gallery, Washington, D.C.), noted for its radical composition. Cassatt was primarily a figure painter; from the late 1880s on, she increasingly devoted herself to the theme of mother and child in oil, pastel, etchings, and engravings. She was commissioned to paint a mural for the Woman's Building of Chicago's World's Columbian Exposition of 1893. In 1912, Cassatt underwent surgery for the removal of cataracts in both eyes, which severely diminished her artistic activities; they ceased altogether within five years.
Bibliography:

Breeskin, Adelyn D., Mary Cassatt: A Catalogue Raisonne of the Oils, Pastels, Watercolors, and Drawings (1970) and The Graphic Work (1980).


Getlein, Frank, Mary Cassatt: Paintings and Prints (1980).


Hale, Nancy, Mary Cassatt (1975; repr. 1987).


Matthews, Nancy M., Mary Cassatt (1987).


Sweet, Frederick A., Miss Mary Cassatt, Impressionist from Pennsylvania (1966).


© Copyright 1993, Grolier Electronic Publishing, Inc.

Print and Web Resources:

Artcyclopedia.. "Mary Cassatt"

The Art Institute of Chicago. "Mary Cassatt: Modern Woman." 13 October 1998 - 10 January 1999. Illustrated Catalog by Judith A. Barter, with Erica F. Hirshler, George T. M. Shackleford, Kevin Sharp, and Andrew J. Walker (New York: Abrams, 1998).


Cleveland Museum of Art. Impressionism and Post-Impressionism.


Deeds, Daphne Anderson, American Impressionism from the Sheldon Memorial Art Gallery, Lincoln, Neb.


Garb, Tamar, Women impressionists (1986).


Lindsay, Suzanne G., Mary Cassatt and Philadelphia [Exhibition Catalog, 17 Feb - 14 Apr 1985], (Philadelphia, PA: Philadelphia Museum of Art, 1985).


Mathews, Nancy Mowell. Cassatt and her circle: selected letters (1984).


National Gallery of Art. The Loge, 1882. The Letter, ca. 1891.


Paris. Musée du Petit Palais. Les Impressionnistes americains. 31 Mar-31 May 1982. [exhibition catalog, Barbara Novak].


Huber, Christine Jones, The Pennsylvania Academy and its women, 1850-1920 [Exhibition catalog, 3 May-16 June 1974] (Philadelphia: Pennsylvania Academy of the Fine Arts, 1974).


National Museum of Women in the Arts. Mary Cassatt.


Pollock, Griselda. Mary Cassatt (1980).


Reynolda House, Museum of American Art. "New Identities in Reynolda House's Mary Cassatt"


Seldis, Henry J., "Mary Cassatt...the rebel retrieved," American Art Review I:3 (Mar-Apr 1974) 58-64.


Sheldon Memorial Art Gallery and Sculpture Garden, Lincoln, NE. "Mary Cassatt" written by Daphne Anderson Deeds.

"Parallel Perspectives: Early Twentieth Century American Art, February 25 - May 9, 2000."


Web Museum, Paris. "Cassatt, Mary." Illustrated.


Withers, Josephine, "Artistic women and women artists," Art Journal XXXV:4 (summer 1976).




Ellis A. Oliver (1872-1937)





Rev.060625 / Comments? / Disclaimer / www.richoliver.us/cassatt.html